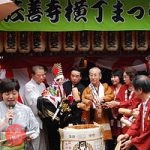 Hozenji Yokocho (Hozen Temple Lane) festival was organized in 1982 to commemorate the revival of a stone-paved lane which used to be paved with asphalt. Featuring a dedication such as performing arts or Bunraku (Japanese puppet show) staged inside the grounds of Hozen Temple and handmade night stalls where each shop enjoys contact with visitors, the festival creates a Naniwa-styled ambience.
Description:
Festival will start at 14:00 on the first day in front of the statue Mizukake Fudo where a rakugo master Harudanji Katsura III and the chief priest of Hozen Temple pray for safety, crack a barrel of sake and make rice cakes accompanied by festival music. Other programs include a dedication of Bunraku play by a national living treasure Minosuke Yoshida, Senryu (humorous poem) contest and the announcement of its winner, and a special stage of rakugo (storytelling) performance by volunteers from Kansai Performing Arts Association.
Between 16:00 and 21:00, each shop will organize unique handmade night stalls.
Web Link
Address
1, Namba, Chuo-ku, Osaka
Transportation
5 minutes walk from "Namba" subway station and "Osaka Namba" station in Hanshin/Kintetsu line, 8 minutes walk from "Namba" in Nankai line