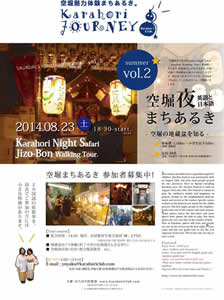 Jizo statues are believed as a guardian angel for children. Jizo-Bon festival was particularly held on August 24th , the time when people prayed for the ancestors. Here in Kansai including Karahori area, the Jizo-bon festival is hold on August 23rd and 24th. The festival is meant to pray for children's health and happiness in general. People in the neighborhood dedicate snack and sweets to the statues. Specific names written on the lanterns are meant for the child's prayers. The first night, people in the neighborhood come out to the statues and read prayers. Some places dance the Bon-odori and some places have games for kids to play. But these places are very rare due to the number of kids.
Here in Karahori, places still exist and people are out on the streets on the first night. Please come and join our guide tour to see the real Japanese local scene. This is the only one day in once a year.
Additional information
Entry Fees: 1000 yen (incl. leaflets and insurance)
Limits: 10 people each for English guide and Japanese guide tour Apply: yoyaku@karahoriclub.com
(Note your name, number of guests, phone number)
Special offers for those who wear Yutaka.
Web Link