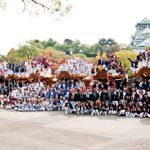 The castle has a good location and a large scale. It is well-known, too. We, however, found that  we aren't taking advantage of these merits as a tourism resource. An event called "Danjiri in Osaka Castle 2012" was held in Osaka Castle Park last autumn. To begin with, the prototype of "Danjiri"is "Syura", which was used in large construction sites from old times. And"Danjiri-bayashi" is said to have been a lead to speed up the construction of Osaka Castle. That is to say, Osaka Castle is the origin of "Danjiri." Therefore, "Danjiri Festival in Osaka Castle 2014" (Danjiri carts come and go stirringly in Osaka Castle Park on the day) is definitely an event suitable to Osaka Castle.
The main purpose is to further promote this event as an important tourist site that fits the representation of Osaka. We want to attract tourists from various places which will help strengthen economic development. We keep in mind that we will make new additions to scale up the event every year. We want to make this event into a very special and lively occasion annually for everybody in Osaka.
Additional information
Date:
 November 1st~3rd (mon), 2014
 10:00~16:30
Place:
 Main Grounds Osaka Castle Park Taiyo-no Hiroba
 Danjiri parade In Osaka Castle Park
 The number of the Danjiri carts:10~20
Web Link
Address
Osaka Castle Park
Transportation
5min.-walk from (JR Osaka Loop Line) Osakajokoen Station.
5min.-walk from Subway Nagahori-tsurumiryokuchi Line Osaka-Business-park station.