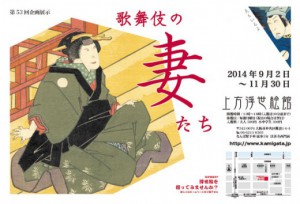 This museum exhibits Ukiyo-e prints and paintings produced in Osaka in the Edo period. While in Edo area there are many Ukiyo-e paintings of beautiful women and scenery, in Osaka area most of Ukiyo-e paintings are of portraits of Kabuki actors. Dotombori was the area that Kabuki theatres gathered. This museum exhibits Ukiyo-e paintings of Kabuki actors who fascinated people in Dotombori in the Edo period.
One of the characteristics of Kabuki is that it is played only by male actors. This means male actors play both female and male characters. Female roles in Kabuki are called onnagata. The actors have made every effort to express a woman's heart.
In this feature exhibition, we focus on "wives" in Kabuki plays. Male actors play roles of "affectionate wives" who bear hardships for their families, by whose performances people are impressed. Please enjoy Ukiyo-e paintings of onnagata actors who try to expresses the heart of the earnest wives or mothers.
Additional information
Open:Tuesday to Sunday from 11AM to 6PM
Admission:500 yens
Web Link
Address
Kamigata Ukiyoe Museum(1-6-4,Namba,chuo-ku,Osaka)
Transportation
5 minute walk from NAMBA subway stations.
In front of the west gate of HOZENJI temple.