Bakurou-inari located in the Namba Shrine grounds has been worshipped as Oinari-san, a representative of Osaka. The Mikoshi(a portable shrine) tour was hold as an annual event, but ceased in 1965 due to the population decline etc., and it revived for the first time in 47 years in 2012, in line with the "Senba Festival" of the regional event. We will also take place this year to continue the tradition in the Reiwa era. As we want more people to experience this festival, we will recruit people who carry the portable shrine.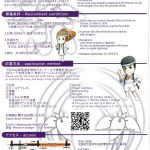 Recruitment
This offer was finished.
Recruitment conditions:
1.Those who can come to Namba Shrine at 8 am on Sunday, October 6, 2019. After changing clothes, practice from 8:30
2.A person who likes festivals and is healthy and energetic.
3.Foreigners. I can communicate in Japanese. Or, you can participate together with those who can speak Japanese.
4.Deadline September 20, 2019 (Fri)
application method:
Please specify the required items below, contact us by email.
1. Name
2. Email address
3. Nationality
4. Height
5. Availability of rental items.
 Footwear / White Pants / Happi
 The size of the tabi 22.0-28.0 cm
 The size of the white pants is S / M / L / LL / 3L
Inquiry abount Omikoshi:
info@namba-mikoshi.com (Person in Charge:Ishikawa)
Web Link
Address
Namba Shrine(4-1-3, Bakuromachi, Chuo-ku Osaka-shi, Osaka,)
Transportation
Subway:
Shinsaibashi Station Exit 3-5 min walk
Honmachi Station Exit 13-5 min walk