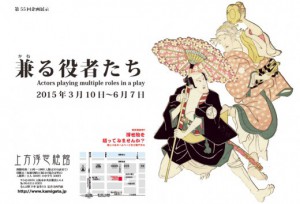 This museum exhibits Ukiyo-e prints and paintings produced in Osaka mainly in the Edo period. Most of Ukiyo-e paintings made in Osaka were of portraits of actors who played in kabuki theatres in Dotombori area. In those days area around this museum were in a lively atmosphere generated by the actors in portraits.
One of the unique elements of the kabuki play is that all roles including female roles are played exclusively by men. Therefore some male actors were specialists in playing female roles called onna-gata, in the Edo period some of whom lived their daily lives as a woman in order to get right into female role. And then in the second half of the Edo period, playing multiple roles in a play, whether they were male role or female role, became regarded as a proof of an excellent actor.
In this feature exhibition, we focus on actors playing a double role (male and female) in a play. Audiences were able to enjoy various performances by watching an actor trying hard to play multiple very different roles in one play. Please enjoy Ukiyo-e paintings of actors playing a double role.
Additional information
Open  Tuesday to Sunday from 11AM to 6PM
Admission  500 yens
Contact  Kamigata Ukiyoe Museum(Tel.06-6211-0303)
Web Link
Address
Kamigata Ukiyoe Museum(1-6-4,Namba,chuo-ku,Osaka)
Transportation
NAMBA subway stations