Matsuo Basho, the famous "haiku" poet, was born in 1644. Together with Saikaku Ihara and Monzaemon Chikamatsu, these three writers were called the "Three Great Men of Letters of the Genroku era (1688 to 1704)." Matsuo Basho died, in 1694, while on his travels. His tomb is at Gichu-ji Temple, Shiga Prefecture, where he wished to be laid to rest.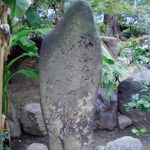 Address
3, Kyutaromachi, Chuou-ku, Osaka
Transportation
Subway:Midosuji Line/Yotsubashi Line/Chuo Line: Hommachi Station(M18)(Y13)(C16).